BANK-SSC-RAILWAY Coaching Classes in Thane, Mumbai, Kalyan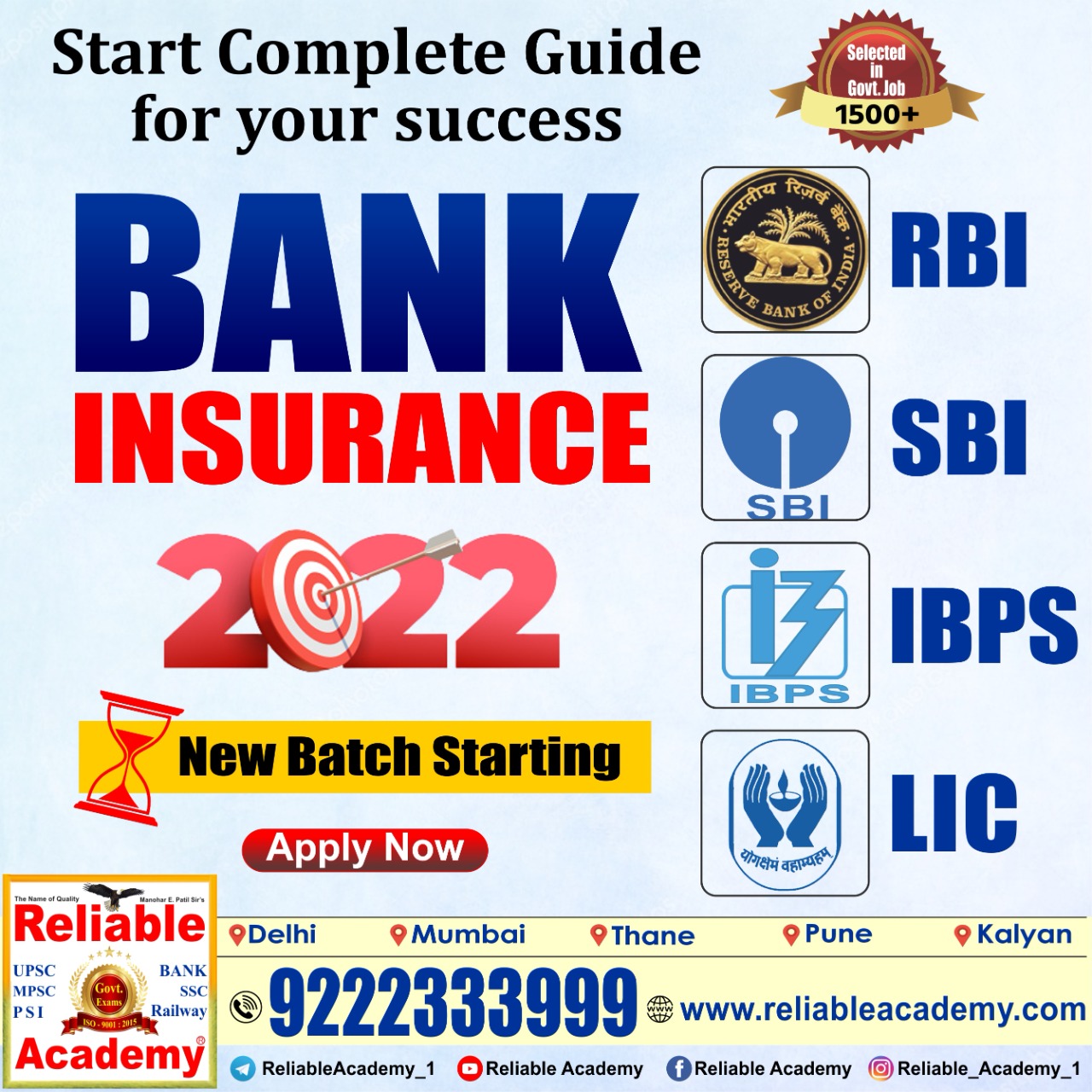 About Course
BANK - RBI - SBI - IBPS - Integrated Course.
Online + Offline + Recorded - 4 Months.
(100% Responsibility Till to Selection)
Batch Timing
Morning : 8:00 AM to 11:00 AM, 11:00 AM to 02:00 PM
Afternoon : 02:00 PM to 05:00 PM
Evening : 06:00 PM to 09:00 PM
We conduct separate and comprehensive courses for the preparation of these exams. The duration, eligibility, course fees for these UPSC/MPSC courses in Pune are different. The candidates must secure admission after a thorough understanding of all these. Consider all the alternatives including the courses mentioned here, graduate and postgraduate courses in Public Services and the Abhyas Mahotsav held twice a year. Each one is suggested to choose an option best suited to him/her depending on the available time, priority, educational qualification, etc. But once you have chosen a particular option, we insist that you do it with full devotion. Prelims and Mains having 3 hours of daily input. In addition to this, we organize 7 days residential camp in January every year, for the preparation of prelims. Page 31 contains more information about the camp. The interview preparation program is held after the result of the main examination.
Prelims will be the first round in the scheme of Exam. It is the primary screening process and hence, the score will not be added for the Selection process.
In the Prelim exam, the aspirants have to answer objective-type questions. The exam will be conducted online. It consists of four sections viz General Awareness, Logical Reasoning, English Language, and Quantitative Aptitude. It is a general round that tests the aptitude of the candidates for screening purposes.Devise a preparation strategy for each of the sections and give equal time while preparing for Prelims.
Selection exam is held in multiple shifts depending upon the number of aspirants applied for the exam. For every right answer, the aspirants will be rewarded 1 mark. For every incorrect answer, the candidates will get a deduction of 0.25 marks. The Prelims exam is held in multiple shifts, and it is dependent on the number of aspirants applied for the exam.
Sections
No. of Questions
Time Duration
Maximum Marks
1
English Language
30
A composite time of 1 hour is provided
30
2
Numerical Ability
35
A composite time of 1 hour is provided
35
3
Reasoning Ability
35
A composite time of 1 hour is provided
35
Total
100
100
Mains is considered to be the most important round since it is a stepping stone to becoming a Grade B officer. The score in this phase matters a lot as it is added while preparing the final merit. One has to strategize and work harder to ensure a good score across sections. All the questions of Main (except for the English language) will be set for both Hindi and English. Mains will also be held in multiple shifts.
Sections
No. of Questions
Maximum Marks
Time Duration
1
English Language
40
30 min
2
Quantitative Aptitude
40
30 min
3
Reasoning Ability
40
30 min
4
Computer Knowledge
40
20 min
5
General Awareness
40
25 min
Total
200
135 min
RBI Assistant Mains Exam Syllabus:
English Language General Awareness Quantitative Aptitude Reasoning Computer Knowledge
- Reading Comprehension
- Synonyms ∙ Antonyms ∙ Sentence Correction
- Word Meanings ∙ Cloze Test
- One Word Substitution
- Sentence Rearrangement
- Sentence Completion
- Phrases
- Active & Passive Voice
- Current World News
- Current India News
- Geography Concepts
- History Concepts
- Political Science
- Banking Awareness
- RBI Terms
- Emoluments and Other Benefits
- Acts and Laws related to Bank (RBI)
- Time and Distance
- Time and Work
- HCF and LCM
- Simple and Compound Interest
- Problems on Trains
- Average
- Probability
- Allegations and Comparison
- Permutation and Combination
- Pipes& Cistern
- Number System
- Geometry
- Mensuration
- Percentage
- Algebra
- Trigonometry
- Number Series
- Blood Relations
- Analogy
- Odd Man Out
- Number Series
- Coding and Decoding
- Directions Based Concept
- Row Arrangements ∙ Symbols
- Statement Reading, Understanding
- Languages
- Basic Hardware and Software
- History of Computers
- Devices
- Viruses and Hacking
Candidates will be shortlisted for the interview, centered on the aggregate of marks obtained in Phase-II (Paper-I +Paper-II +Paper-III). The interview will be of 50 marks. The candidate may opt for interview either in Hindi or English.
Based on the scores obtained in Mains, the candidates are called for an interview. Interview is the last and final round consisting of 100 marks. Candidates will undergo a Psychometric Test conducted by the Bank before appearing for the Interview. No marks will be allotted for the same and this will not form part of the final selection criteria.